Doorposts - eBooks
:
This is the newsletter I received today ... be sure to sign up so you get a heads up on their awesome bargains!
And be sure to check out their blog as well ...
http://www.doorposts.com/blog/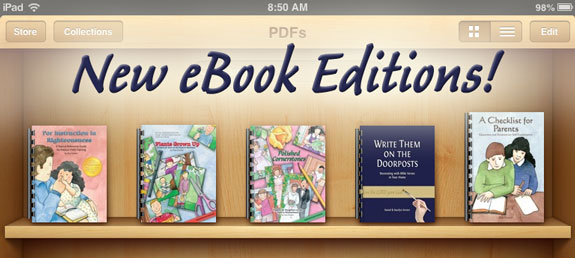 We're beginning to offer downloadable versions of Doorposts' most popular parenting books!
Eight of our books are currently available electronically, and what better time to try one than during our 10% off Christmas sale?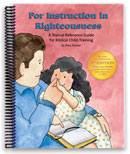 For Instruction in Righteousness
Our time-tested, best-selling topical Bible for parents! 53 chapters cover common areas of sinful behavior and give practical ideas for discipline and encouragement, all based on specific Bible verses. The EPUB edition is optimized for use on most eBook readers and smartphones.
Plants Grown Up & Polished Cornerstones
A full character training plan for both boys and girls, these newly revised manuals can be used as early as age 4, and for every year until your children leave home. Each chapter covers a different character quality and gives you age-appropriate Bible studies, projects, discussion topics, and other assignments that will help you reach your character training goals. PDF editions make it even easier to find relevant projects and print study worksheets from your computer.

A Checklist for Parents
A series of 26 questions designed to help parents examine themselves in light of God's Word. Questions and Scripture verses cover 6 main areas of parental responsibility: Love, Prayer, Instruction, Protection, Provision, and Example.
PDF - Print - Kindle
The Benefits of eBooks:
Instant download at checkout or from your confirmation email.
Print the whole book, or just the pages that you need.
Save money - our eBooks are 25% cheaper, and no shipping fees are charged!
Linked table of contents - click on the topic you want and go directly to that chapter.
Searchable - most eBook readers let you search for and quickly find specific words or topics within the book.
Linked Bible verses - Bible references may be clicked to open up the fully quoted verse at BibleGateway.com (internet connection is required).
Direct Web Links to all recommended resources and reference materials.
Save space and take them anywhere on your computer or mobile device.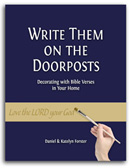 Write Them on the Doorposts
This booklet of ideas, pictures, and projects will inspire you to make the words of Scripture more prominent in your home. In it, Daniel & Katelyn share several Scripture decorating projects from their own home plus the best photos from last year's "Write Them on the Doorposts Contest."
PDF
The Downsides of eBooks:
Once you download an eBook, you are responsible to keep a backup copy of your eBook file. We cannot replace lost files.
Unlike print books, eBook files are non-transferable. eBook purchases may only be used by the original purchaser, and members of the original purchaser's immediate family in the purchaser's household. They may not be shared or sold as "used books." Read the full terms here.
Amy Hayes' new Christian wedding planner is an indispensable, biblically-grounded resource for anyone who wants to plan or coordinate a distinctly Christian wedding.
The planner comes in a ring-bound notebook with pockets and dividers to help you stay organized. The bride's devotional readings from the planner are also available separately as a Kindle eBook.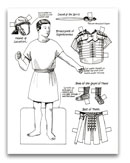 Bible Times Paper Dolls
A set of 3 paper dolls. The woman becomes many different Bible characters with her 4 costumes. The man can dress as a priest, shepherd, king, prophet, soldier, or pharaoh. The Christian soldier can don all his Ephesians 6 Armor of God (he also makes a great "Goliath"). Our children love these because, besides all the fun of cutting everything out, they also get to color them all! PDF
To order, visit www.doorposts.com or call (888) 433-4749 today.
Mention coupon code CHRISTMAS12 and receive 10% off!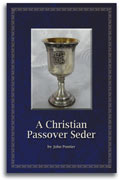 A Christian Passover Seder
This booklet will help you celebrate a Christ-centered Seder meal - a celebration of God's abundant grace and provision for His people.
The booklet includes 1.) Traditional blessings in both English and Hebrew, 2.) Relevant Scripture readings from Old and New Testaments, and 3.) Preparation notes, checklists, and recipes to help you plan a Seder dinner for your own family or church group. Print - Kindle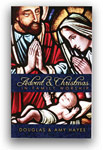 Advent and Christmas in Family Worship
Daily family devotionals for the Christmas season. We love this simple but powerful book that re-traces God's glorious plan for redemption through Genesis, Psalms, and the prophets up to the birth of Jesus Christ. Includes four weeks of devotionals, as well as Christmas songs and projects for the Advent season.
Print edition
- Kindle eBook
The fine print: You must enter the coupon code CHRISTMAS12 in your shopping cart to receive the discount (please make sure the discount is reflected in your total before you submit your order). Christmas sale discount is not applicable to previously placed orders or combinable with other coupon codes. Coupon expires at midnight on December 31, 2012.
---
'via Blog this'